I found this recipe and thought I needed to share it with everyone.  🙂 Enjoy this and if you make two of them then be a sweetie and send one my way!!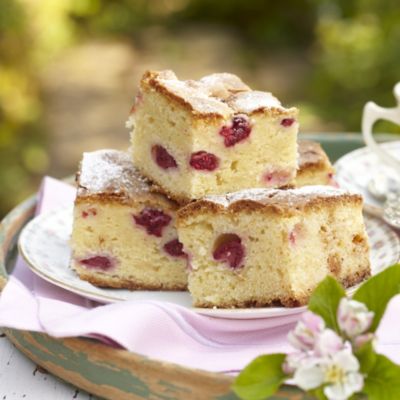 White Chocolate & Raspberry Blondies
A summery twist on chocolate brownies
Serves 9
Ingredients
150g white chocolate, broken up
200g unsalted butter, diced
3 large eggs
150g caster sugar
½ tsp vanilla extract
200g plain flour
½ tsp baking powder
100g white chocolate, finely chopped
150g fresh raspberries
Instructions
Place the broken chocolate and butter in a heatproof bowl, set the bowl over a pan of steaming water and melt gently, stirring frequently. Remove the bowl from the pan and set aside.
Whisk the eggs in a large bowl until frothy. Add the sugar and vanilla extract and beat thoroughly until mousse-like in texture.
Whisk in the chocolate mixture.
Sift the fl our and baking powder directly onto the mixture and fold in. Stir in the chopped chocolate.
Spoon into a prepared tin, spread evenly and level the surface. Scatter the fresh raspberries over the top.
Bake at 180ºC/350ºF for about 25 minutes or until a skewer inserted in the centre comes out almost clean.
Remove from the oven and leave to cool in the tin before cutting and removing. Store in an airtight container and eat within 2 days.